Great supplier relationships bring great competitive advantage. Strong relationships with vendors often depend on the speed at which you, as an accountant, release their payments. And while the invoice processing time is the most crucial here, it is also noticed that this is precisely the biggest challenge most businesses face.
Almost 45% of businesses suggest that their accounting departments struggle with extended invoice processing times due to complicated workflows. This means more late payments and penalties—all of which can lead to costlier goods or services from suppliers down the line.
According to Gartner, if processing payment for invoices takes more than seven days and less than 50% of that process is digitized, automation can help remove inefficiencies.
Using Gartner's Market Guide for Accounts Payable Invoice Automation Solutions, we put together this blog to help small and midsize business (SMB) owners break away from labor-intensive invoicing processes and improve accuracy across their accounting functions.
An Arizona-based entrepreneur, Lindsey Hyland, shares that automating invoice processing created an efficient workflow, cut down labor hours, and spared them more time to focus on valuable tasks.
What is invoice processing?
Invoice processing means handling incoming invoices or bills from suppliers and processing payments for them. Accounts payable (AP) teams in accounting usually manage the entire lifecycle of supplier invoices, from arrival to payment, ensuring that goods or services have been received and are backed by appropriate orders before authorizing invoice payments. All of this helps maintain positive relationships with suppliers.
Businesses can take over 11 days and $10.20 per invoice in manual invoice processing. Typically, the process involves five steps (demonstrated below), which can stretch up to 15 in case of discrepancies in amount or quantity.
These efforts can be reduced by automating many areas of invoicing, such as matching the invoice with the purchase order or detecting duplicate invoices.
Most pressing invoice processing challenges for accounting
Many problems plague AP teams in invoice management. They include but are not limited to:
Invoices received via paper
Damage or loss of paper invoice
Missing crucial information or data entry errors in invoices (also known as invoice exceptions)
Invoices left out in approvers' inboxes
Chasing after approvers to verify invoices
Difficulty in tracking returns sent back to suppliers
Secure storage of past invoices for audit and other purposes
Invoice arrival after the due period
Frequent supplier inquiries about payment progress
Top challenges account payable face in invoice processing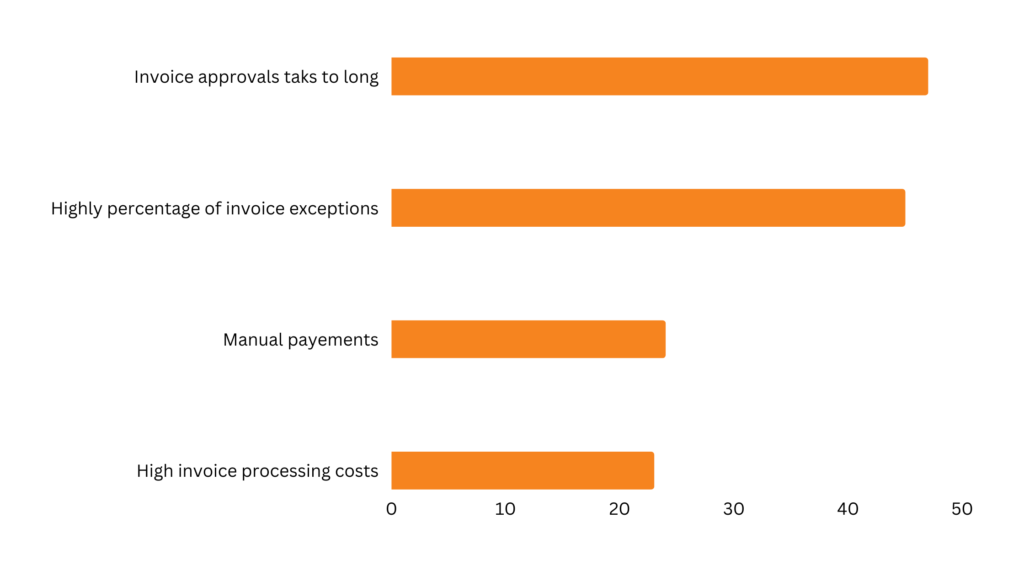 Benefits of automating your invoice processing workflow
With automated invoice processing, you eliminate piles of paperwork and reduce the likelihood of missing invoices. The most prominent benefits of invoice processing automation include:
Higher accuracy: By limiting human intervention, invoice automation reduces errors significantly caused by manual data entry or incorrect perusal of invoice details. The accounts payable software will cross-check an invoice by matching its data automatically against purchase orders and delivery receipts (also known as two- or three-way matching) and flag inconsistencies. It can also detect duplicate or fraudulent invoices and send invoices with unusually high amounts for closer review.
Quicker workflow: Automation eliminates the need to send invoice copies to different departments for approval manually. The software would typically auto-route invoices to the relevant manager or department responsible for review and tag an authorized member of the AP team to remit payment for approved invoices, thus expediting the workflow and eliminating tedious steps.
Easy visibility: With all information stored digitally in a single place, department heads, procurement professionals, and accounting staff can track each invoice in real-time with centralized dashboards and have improved visibility into payment progress.
Better records: By storing invoices and bills in digital form, automation eliminates the need to retain paper copies and the fear of misplacing invoice copies.
Lower costs: Automation reduces costs by improving the workflow, making it smoother and more transparent, thereby increasing the productivity of all the stakeholders involved. It also helps companies expedite payments to suppliers and take advantage of prepayment discounts.
Potential steps you can automate in invoice processing
Accounts payable (AP) software solutions are evolving to become more and more sophisticated. They are incorporating technologies such as optical character recognition (OCR), machine learning (ML), and artificial intelligence (AI) to automate entire invoice capture-to-pay processes.
Gartner research shows that payment automation is often the main reason small businesses look for invoice automation solutions, while midsize organizations may require more functionalities, such as easy data capture for an increased volume of invoices and improved supplier coordination. Start by automating tasks that consume the most time and resources at your organization. From invoice data capture to handling payments and generating reports, here are some invoice processes that can be automated with these solutions:
What's next? Find the right AP automation tool for you!
When finding an AP automation tool to process invoices, you should look for a system that is easy to use, integrates with other systems, and has robust reporting capabilities.
Use these tips to see if automation is right for your business and what you should look for in accounts payable software:
In the first few years of your business, you may not require AP solutions (especially if you have just a few suppliers). But as your business grows, AP automation will become a tremendous avenue for cost reduction and revenue boost. Determine the number of invoices you process monthly and the time and cost spent on them (in labor and equipment) to decide whether to invest in an AP system that helps you automate invoice processing.
Choose a solution that offers fast turnaround times (less than 24 hours), integrates seamlessly with your current technology stack (such as POS system, ERP, and accounting system), and enables you to move away from dated spreadsheet-based operations. Using multiple tools disparately won't deliver the same results as a good AP automation system that integrates well with them.
Using cloud-based AP solutions will allow you to make faster decisions on payments while also providing real-time visibility anytime, anywhere.
For strong reporting and analytical capabilities, ensure the software offers fine-tuned invoice coding capabilities. Detailed codes will enable you to get a deeper insight into your operations.
Ensure the software has proper checks in place to keep unwanted intrusions at bay and encrypt sensitive data from being accessed by unauthorized personnel.
Source: Software Advice